Even though, I know that a lot of companies pay people to get positive reviews on their page located on different websites.
Still, I will suggest you take reviews seriously and this time, the negative reviews.
Because no company will pay anybody to write negative reviews.
It might also happen that the negative reviews were posted by the competitors or someone who wish bad for the company.
So, we should take negative reviews seriously because we don't need to worry anything about positive reviews.
It was November 2019, when I was offered the job of a Physics teacher at Mathayom Watsing, Bangbon.
The teacher Amy, who was in charge of the Foreign Language department asked me if I could live near the school as I was living in Bangakpi, Bangkok and my Work Permit was about to expire.
I returned back to my country and asked Ms Amy to send me documents so that I wouldn't have to go back to my country to apply for a Non-B visa.
Which she denied.
I searched the apartment near the school: one was cheaper but it was a bit far, the other was near as claimed by the owner.
Later I found that the apartment was not 500 meters from the school as claimed by the owner.
It was a bot far (around 2 kilometers).
But this is not the case for which anybody should be worried about.
Before finalising the resort, I checked about the review of the Resort on Agoda.com
Agoda.com is a website known for booking hotels and apartments.
And, I found this review (negative):
But I ignored the review as I was looking for an apartment near to the school.
I deposited the security money and one month rent in advance on the first day.
The owner was not there. So I gave the money 5400 baht in total cash to the caretaker there.
I was being charged 500-700 baht more money than what we agreed on LINE, which I ignored thinking positive about the balcony view.
And, I started living there.
It was easily accessible to the transport services and near to the shopping malls, restaurants and 7-11.
Overall, deal was not bad.
Then, after a few days, the in charge of the Foreign Language Department of the school sent me a message that they hired someone else for that post.
It was completely shocking for me as she provided me timetable to teach and asked me to prepare question papers.
I shared the situation to the owner that my visa will expire on the 31st of December and I had to leave the country as I was cheated by Ms Amy.
And she agreed to pay my security amount in full the day I leave the resort.
The days spent well as there were no other problems except a few cockroaches.
On 31st December, I reached to the reception counter to get my security amount.
The owner was not there.
I asked the care taker to call her and tell her that I am going.
The owner said I can go, she will transfer money to my Bangkok Bank account.
I trusted her and moved to airport with my luggage.
I was about to reach airport when I received a message from Bangkok Bank or a transfer of 2734 baht against 4700 baht.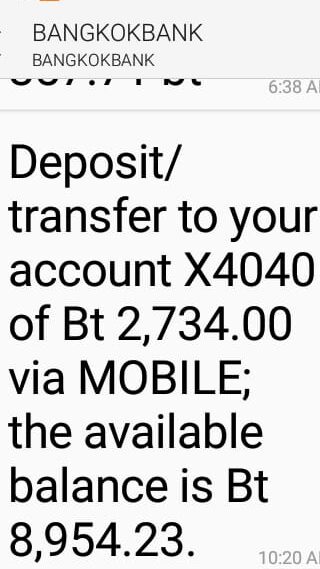 I already paid an electricity bill and she added extra 900 baht to my bill as I was leaving early.
That I also paid.
I didn't sign any agreement but still I agreed to pay whatever she charged.
Hoping that the day, I leave I will get my security amount in full.
The overall stay was good. I was only cheated by the owner.
I didn't expect that this is going to happen because I ignored the reviews by some of the foreigners about overcharging.
I texted her on LINE to pay my amount but she didn't reply and then blocked my number one day.
That was my story when I ignored the negative review of a resort and faced the same thing or probably worse thing than that experienced by other foreigners.
It's always a wise decision to look at the negative reviews carefully and then decide about buying a product or services and booking any accommodation.
Then only you will be considered as a wise or informed customer/consumer.
So, this is for today.
See you tomorrow with another story with a another message.
Till then, take care.